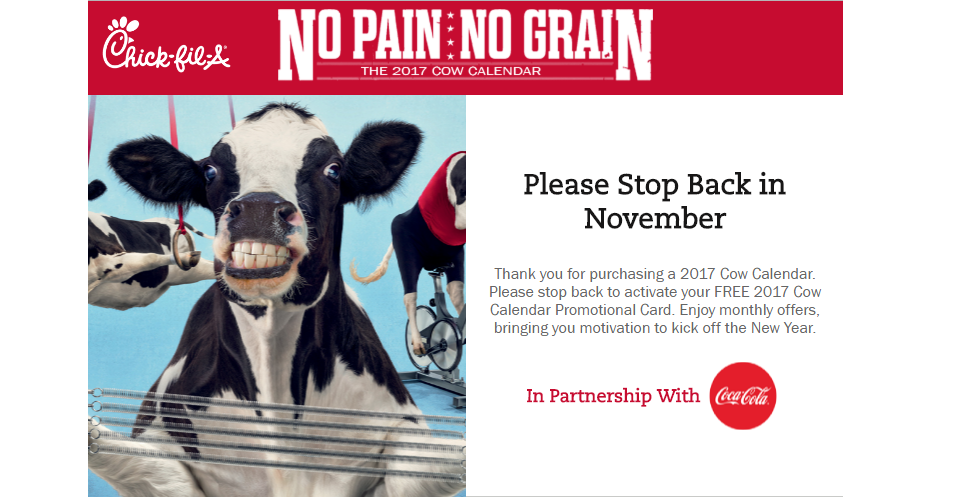 Yay! The new Chick-fil-A 2017 Calendar: Inspiration from the Cows is available now at participating Chick-fil-A restaurants! You can buy your calendar for $7.00 at participating locations.  Once you do, you will receive a promotional card. You will then need to activate your card here. Once activated you will be able to receive a FREE featured offer of the month every month throughout 2017!
Here is a peek at the deals featured for 2016:
January: Medium Bowl of Hearty Breast of Chicken Soup or Chicken Tortilla Soup
February: Chick-n-Minis (3 count) or Greek Yogurt
March: Any Size Coca-Cola Fountain Beverage or Dasani Bottled Water
April: Mystery Offer
May: 8-Count Classic or Grilled Nuggets
June: Large Waffle Fry and Any size Coca-Cola or Dasani Bottled Water
July: Small Hand-Spun Milkshake
August: Mystery Offer
September: Mystery Offer
October: Any Size Coca-Cola Fountain Beverage or Dasani Bottled Water
November: Chick-n-Strips (3-Count)
December: Your Choice of Chick-fil-A Sandwich or Spicy Sandwich or Grilled Sandwich
So as you can see, the freebies you get will definitely pay for the $7 to purchase the calendar.  These calendars always go really fast and they are only available while supplies last.  So don't wait too long to grab yours!
**Please note: A lot of locations have these calendars in stock now.  If yours doesn't, all participating stores should be getting them soon.