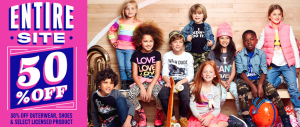 Their are some awesome deals happening right now at the Children's Place!! In addition to 50% Off Sitewide, all basic denim for only $7.99, all Graphic Tees for $3.99, FREE Shipping, plus you'll earn $10 Place Cash for every $20!  

And as a bonus, if you spend $30, you will get $20 to spend at Shutterfly!

If you haven't started your school shopping yet, now is the time!