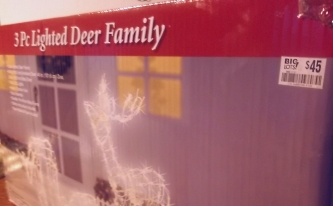 Pop into your local Big Lots this weekend for some great prices on holiday decor. Lots of items are already on clearance for 50% off, including Christmas trees, lights, ornaments, indoor decorations, and outdoor decorations.
I picked up the three-pack of light up deer pictured above for only $22.50. (I probably could have gotten them cheaper if I waited, but it was an impulse buy…  😉 )
If you're heading out this weekend, you might also want to check out the Chili's Holideals and the $5 off $10 Hallmark coupon!