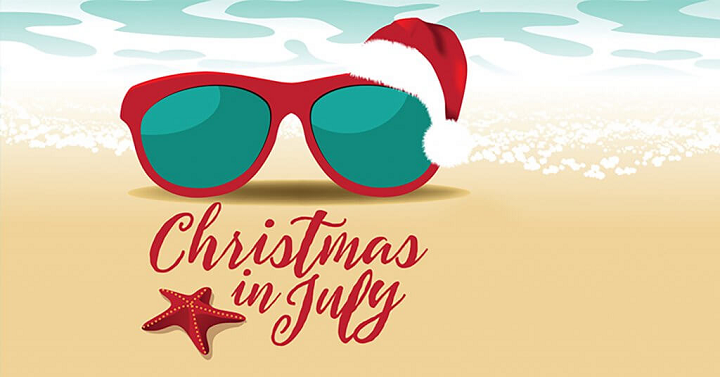 Have you heard about Christmas in July? It's a fun tradition that started back in 1933 when Keystone Camp in Brevard, N.C. decided to dedicate two days to the holiday (July 24th and 25th). They've even come out with a movie called Christmas in July if you're looking for a fun movie to watch. So how do you celebrate? Here's what we plan to do and a few other fun ideas you can put together that don't require buying gifts:
Bake Christmas Cookies – this is a holiday tradition in our house and one we plan on doing this Christmas in July. We'll be baking up our favorite sugar cookies that are shaped in fun Christmas shapes and decorating them with frosting and sprinkles to gift to neighbors and family.
Decorations – This might be a pain if your Christmas decorations are tucked away and hard to get to but if not it would be so fun to pull out a couple of Christmas decorations like the stockings, lights and even the Christmas Tree. Ours are a little difficult to get to so we plan on pulling out our Christmas lights and stringing them around the house to bring in the Christmas spirit.
Music & Movies– Turn up the Christmas tunes and have a dance party! We plan on having Christmas music blaring in the car and the house for those two days! I'm definitely excited for this one but the hubby, not so much

We'll also be watching one of our favorite Christmas movies, The Grinch! And don't worry, I'll be watching a Christmas hallmark movie once the kids are in bed, with HOT CHOCOLATE!
Elf on the Shelf – this could be a great reminder to the kids that Santa is always watching! If you do Elf on the Shelf, you should bring him back for these couple of days as a cute way to add to the Christmas spirit! He could hang by the pool or have everything out to make snow cones. There's some fun ideas you can do for those couple of days.