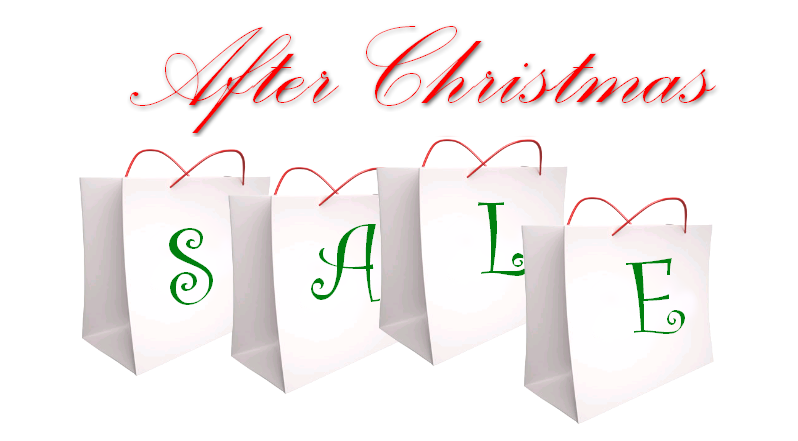 The gifts have been opened, the stockings have been pillaged, and you're ready to get back to your normal pre-Christmas life. There's just one more thing left to do…
Get your after Christmas shopping out of the way!
Right now, after Christmas sales are in full swing, so it's time to break open the purse strings one more time before we resolve to stop spending so much money in a couple of days. After Christmas sale shopping can be a harrowing experience, though. Almost as harrowing as Black Friday sale shopping. So, here are a few tips to help you find the best deals and keep your sanity while you do your after Christmas sale shopping.
Send the Kids to Gramma's
I know – you love the little darlings, but after hitting an after Christmas sale (or 10) with the kids in tow, you might just be ready for the looney bin. Hardcore bargain hunting also isn't much fun for the little ones. So, if you're able to, take advantage of a relative or friend's past offer to watch the kids, or leave them home with your spouse.
Do Your Research
Know what's on sale and where. Browse through fliers and check out business's websites, where many deals are usually announced. Make a list of the different sales you want to hit to save time and frustration.
Make a Budget
Just like you made a budget for Christmas, you should make a budget for your after Christmas sale shopping trip. Decide what you're looking for and how much you're willing to spend ahead of time. If possible, you should also only take that exact amount of money with you and leave the pocketbook at home. Oh, and don't forget all those gift cards!
Have a Plan But Be Flexible
You should have at least a general idea of what you'd like to get during your after Christmas sale shopping. For instance, if you need a new tree, by all means, put it on your list. However, don't forget that you'll need to be flexible. You may not be able to find a 7.5 foot multi-colored pre-lit pop-up tree with berries, pine cones, and frosted tips, but you may find another suitable – or even better – tree.
Dress for War
Okay, maybe you don't have to don the fatigues and combat boots here, but you should at least dress for comfort. Wear comfortable sneakers and dress in layers. You'll probably be on your feet for quite a while, and it will most likely also get rather toasty during all of the after Christmas sale madness. As more people jam into the stores, the temperature will start to rise, and you can stay cool by removing some of those layers.
It's Not Just Christmas Decor on Sale
Deeply discounted Christmas decor is generally the main thing on most people's minds during their after Christmas sale shopping. However, don't let that be the only thing on your mind, because that's not the only thing on sale. You can often find holiday food, especially candy, on sale for next to nothing. If you use coupons for these items, you could wind up getting some items for next to nothing. Some other items to check out include apparel, gift sets, and toys. Definitely the toys! You could snag some great bargains on toys for upcoming birthdays, baby showers, other holidays, and even (my personal favorite) next Christmas!
Think Outside the Holidays
The Christmas decor that you find during your after Christmas sale shopping trip might be able to be used for other holidays and occasions. Anything red, for instance, can be used for Valentines day, and anything green can be used for St Patrick's day. Wrapping paper and ribbons without obvious holiday designs can be used for other occasions, like birthdays and anniversaries.
Don't Just Hit the Big Stores
Places like Target and Walmart aren't the only stores with after Christmas sales. Home improvement stores, like Ace Hardware and Home Depot, also have excellent holiday sales. Drug stores, like CVS and Rite Aid, have great holiday sales, and you won't have to compete with as many shoppers. Even thrift stores have after Christmas sales to get rid of their holiday merchandise!
Stay Calm and Have Fun
Shopping an after Christmas sale should be fun. After all, you're saving a bundle of money! However, it can be difficult to stay calm and be patient with a mob of greedy shoppers bumping into you. Just do your best. If you get too frustrated or irritated, take a break. After all, no sale is worth a black eye or an escort out of the mall…
Now it's your turn – what are your favorite tips for after Christmas sale shopping?