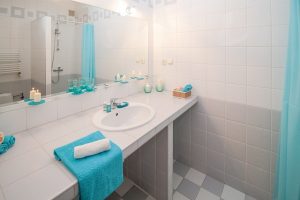 How long do you spend cleaning your bathroom? Do you feel like your time could be better spent elsewhere? I mean really? Can't you find better things to do than scrub the toilet all the time? If you are ready to move on from this monotonous chore, here are some tips on how to clean your bathroom in 10 minutes or less:
Remove all items from tub and sink. Move all of the shampoos, conditioners, soaps and other products from around the tub and sink. Spray them down with your favorite cleaner and wipe them down.

Clear off the counters. Did you leave your makeup out? Maybe your hubby left his shaving supplies or cologne out? Time to pick all of these up!

Wipe down the counters. Using the same cleaner or a cleaning wipe, wipe down the counters.

Clean the toilet. As long as you clean your toilet regularly, this should be an easy job. Just spray your all purpose cleaner on the surface of the toilet and wipe down with a cloth or paper towel. You can also spray inside the toilet and do a quick sweep of the bowl with a toilet bowl brush.

Spray your shower curtain with a mildew fighting cleaning spray to keep it fresh and clean. Depending on your cleaner, you may have to wipe the curtain down as well, or, it may be a wipe-free type of cleaner.

Sweep. Now it is time to sweep and spot clean the floors. As long as you keep it swept and clean of any debris or any spots, you shouldn't have to mop each time you clean the bathroom. I have little boys though, which means that I do quite a bit of spot cleaning my bathroom.
What are your quick cleaning bathroom tips?