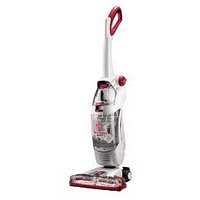 Image source: Target.com


I have to share with you my awesome clearance find. I decided to go to Target to scour the Halloween clearance. While I was walking the store I went by the Home section, which I usually ignore. I found a Hoover Floormate marked 50% off from its original price of $149.99. I love my Floormate and the one I have right now it's five years old already. So I thought that this would be a good price to pay for a replacement.
However, when I went to scan it to check the price it was actually down to $37.49!! To top it off, right next to the scanner were three orange plastic totes. They scanned 50% off but I pointed to the cashier that they were part of the 75% off Halloween clearance. The Supervisor in charge confirmed this so I got them for 75% off too.

If you are interested in checking whether your store has a Floormate, the product's DCPI # is 072-07-0003.