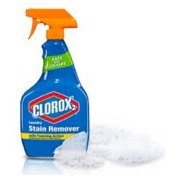 I just wanted to remind you of this sweet deal at Target. I went to rock it today so I would hate for you to miss out, just because you didn't catch it.
Use these Clorox 2 printable coupons to get a sweet deal on a couple of these products at Target through 10/15:
Clorox 2 Stain Fighter Pen 4/$7 (Price Cut thru 10/15)
Clorox 2 Laundry Stain Remover 22 oz 4/$7 (Price Cut until 10/15)
Use $1.50/1 Any Clorox 2 Product printable coupons
Pay 25¢ each after coupon and price cut
Follow these steps to get this Clorox 2 Printable coupons:
1) Take the Pledge to Play
2) After you Take the Pledge, add activities to your list
3) Click on My Activities link on the top right of the page
4) Complete any of the activities your selected and mark it as completed
5) Print your coupon, hit the back button to get a second copy.
Thanks, Totally Target!