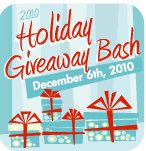 Are you ready for a second round of Holiday Giveaways?  Well, I hope you are because it is coming next week!  We have been working really hard to give you a chance to win some more awesome goodies.  I don't want to spill all the beans but some of the goodies we have include Better Home and Gardens Cookware, toys and MORE.
Participating Blogs Include:
You can check up on some of the sponsors on the Win Giveaways Facebook Page.