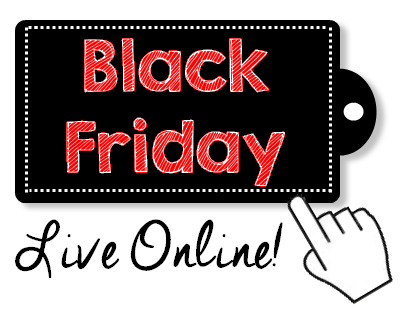 Planning to shop online this year for Black Friday? I don't blame you! I've done the Black Friday thing in the past, but you coudn't pay me to fight the crowds on Black Friday these days. And shopping on Thanksgiving? No thank you! No deal is good enough to brave the crowds and skip the turkey.
You don't have to give up on the deals completely, though. Shopping online just might be the answer. Most of the deals listed in the store Black Friday ads are also usually available online. Sometimes they're even available days before the official big sales start!
So, it's definitely worth it to check out the prices online before you head to the store. Check them periodically in the days leading up to the sale, and you may have your shopping done before the turkey even goes in the oven. (Have I mentioned how much I love shopping online…?)
To help you with your online Black Friday shopping, we're putting together some online Black Friday shopping lists for you. These lists contain most, if not all, of the items listed in each of the store Black Friday ads. I'll try to include as many store lists as I can, but due to time constraints, I won't be able to put together a list of every single store. I promise that I'll try to be as thorough as possible, though.
Here are a few tips and tricks to help you use these lists…
If you're looking for a specific item and you're on a PC, hold down the Ctrl key and press the F key. This will bring up a search box in your browser, and you can type in whatever you're looking for.
When you find some goodies that catch your eye, click and hold and drag the link to your bookmarks bar. That way you can find the links to the items quickly and easily when you want to check the price or you're ready to buy. I have a folder where I keep items I'm watching.
Each list is organized by category, and the categories are listed at the top of the list. Click on the category name to jump to the list of items in that category. Click on the "Take me Home" link at the bottom of each list to go back to the top of the page.
Good luck with your online Black Friday shopping!

Here are the online Black Friday store lists that have been completed already. More will be added in the coming days, so be sure to bookmark this page and check back often!