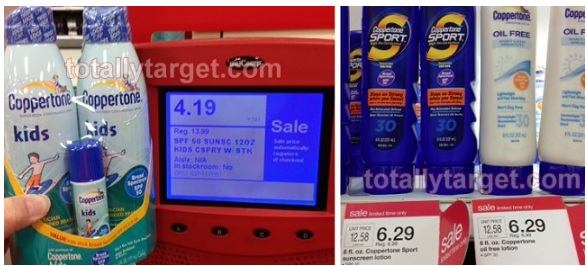 If you shop Target head over to the seasonal summer section where some have been finding Coppertone suncare products on clearance for as much as 30% off.  If you can't find the clearance you can still save 10% with their current sale. Be sure to do a price check at a scanner since most of them are not marked with tags.  Clearance products can be very regional but if you're able to find them here is a possible scenario:
Coppertone Suncare products – psa $4.19 – $6.29 (may be regional clearance)
Use $2.00 off any Coppertone product 4 oz. or larger
PLUS $1/1 Coppertone sunscreen 4-oz. or larger Target store coupon (exp 8/11)
Pay as low as $1.19 after coupon stack!
If you find the double packs that works out to be just 60¢ each!  Looking for more Coppertone Coupons?  Look HERE!
Take a look at other Target deals here.
Thanks Totally Target