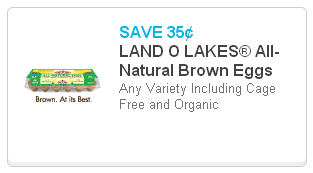 It's not everyday that we see coupons for eggs, so make sure you get this one printed! It's for $.35/1 Land O Lakes All-natural brown eggs, and it includes cage free and organic eggs.
If you don't see the coupon right away when you click on the link, change your location to Texas zip code 77477. Then, come back here and click on the coupon link again.
Going shopping? Check out all of the recent coupon deals we've found!