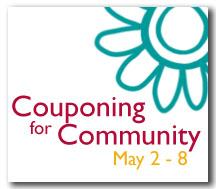 One of the first things I realized when I started using coupons is that coupons are not only an amazing tool for saving money but also for helping others.  Using coupons has allowed me to give so much more  to others  than what I could afford on my own.  Over the year I pick up items that are moneymakers, free or very cheap to take to my local food pantry or shelter.
This week (5/2-5/8) I want to challenge you to do the same.  If you have been using coupons for a while I would love for you to take a look at your stockpile and consider donating items you already have available and that maybe you won't get to use before they expire.  Maybe you have stockpiled more of an item than your family can use for a long time (Stayfree, razors or body wash anyone?) and you know these items will be free again in the near future it.  If you are new to using coupons, how about some free bodywash, free toothpaste, cheap Campbell's soup, or carefree products.
RSVP to the event Couponing for Community that Kaley over at Cha Ching on a Shoestring has organized for this week.  Join this community of couponers across the U.S. by giving a part of your stockpile away to a homeless shelter, food pantry, or a friend in need during the week of May 2-8.  You are also invited to share comments or pictures of the items you are giving away.
To make it even easier for you, this coming Saturday 5/8 is Stamp Out Hunger, a national food drive organized by the Association of Letter Carriers.  To participate all you need to do is place non-perishable food in a bag by your mailbox.  The mail carrier will pick it up and deliver it to your local food pantry. I have participated in this food drive for the past two years and hope to do the same this year as well.  How easy is it to give when you have people coming to pick it up?
I would really hope you would consider joining us.  Every little bit does help.