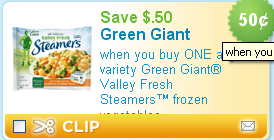 I love the first day of every month because it means that I get to print more coupons.  yeah!  I was really bummed I had hit print limit on some of the coupons available on Coupons.com.  But I just checked and I can print some of my favorites such as the Welch's Jelly or Juice.  Also the Special K coupons I printed to get bars at Target has been reset and now I can do the deal again.
There are also a few new coupons available:
$0.50/1 Green Giant Steamers.  This is a really HOT coupon if your store doubles as they go on sale for $1 or less)  Even if your store doesn't double this is a nice value coupon).  I just noticed this is also available on Smartsource.
$1 off Success Rice (This is also available on Red Plum)
$1 off Progresso Delight (you can also print $1.25/1 here)
I can't list them all as there were 160 coupons available!  Love it!  I seriously love printable coupons.  Most of the time they are better value than coupons in the newspaper inserts and I don't have to worry about getting cut off the good coupons.
Happy Savings!