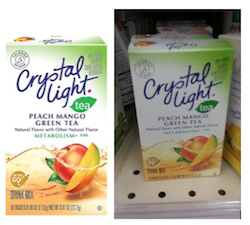 I wanted to give you a heads up to all you Walgreens shoppers!  Right now there is a catalina (register reward coupon) offer printing when you purchase select varieties Crystal Light Drink Mixes.  Here's the info:
Crystal Light Drink Mixes (Canister or 10ct On The Go)
1/4/13 – 1/31/13
Buy 3 Get a $1.50 Catalina
Buy 4 Get a $2.50 Catalina
Buy 5 or more Get a $5 Catalina
Varieties may be regional and tThere aren't any coupons that I saw available right now so here is the deal:
Buy (5) Crystal Light On The Go Drink Mix – psa $1.19 (clearance)
Pay $5.95, get back $5 RR (Catalina coupon)
That works out to be just 19¢ per box after RR!
Even better if you have ibotta you can get the $1 offer for crystal light on the go, single serve packets any flavor and variety you will get it all FREE! 
I absolutely love Crystal Light so I'm stocking up!  Check out the other Walgreens deals here.
Thanks Living Rich With Coupons