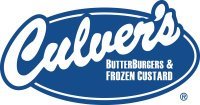 Culver's is celebrating it's 25th Anniversay this week and offering one it on their menu for $1 only.  Here's the list of items available for $1 this week:
July 13: Short Root Beer Floats
July 14: Chili Dogs
July 15: Single ButterBurgers
July 16: One-Scoop Cake Cones
July 17: Short Shakes and Malts
July 18: One-Scoop Hot Fudge Sundaes
July 19: One-Scoop Turtle Sundaes
The offers may vary by location, so make sure to call your local Culvers and confirm participation.
Thanks Mummydeals!