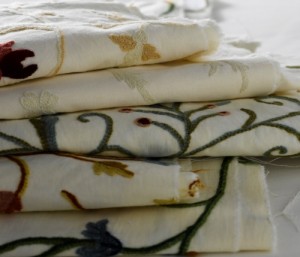 Earlier this week I asked a question on the CSwM  Facebook wall: "I am looking for a good deal on curtains.  Where do you guys go to get these for less?" And, the replies started pouring in from all of you!  There was such great advice and tips that I thought I'd share some of them with you on CSWM.  So, thank you, readers for your thrifty wisdom!
Make It Yourself:
Evangeline said, "fabric.com has some great fabrics on sale. I buy from them and make my own. Last a lot longer and I can pick my fabric/pattern."
Judy said, "I made my last set of curtains (actually my daughter's). I bought the fabric on sale from joann.com. It cost me less than $20 to make two pairs (four simple panels with ribbon tiebacks)."
Shop Used:
Kimberly suggested, "Craigslist! People are always moving or selling things there…..Some people are even kind enough to post the measurements of the items you're wanting to purchase so they don't waste their time or yours. :)" AND
Kimberly explained, "but the most recent Curtains were purchased at a Block Sale/Garage Sale from a nice neighborhood for $3. The nice woman said she purchased them and they didn't fit and she was too lazy to return them so we got a great deal :)"
Crystal shared, "I've got some great ones from Goodwill."
Kristin offered, "…but there is a good selection at resale shops like salvation army or goodwill..."
Shop at Discounted Retailers:

Christine said, "IKEA has some neat pieces for cheap."
Toddlertwins said, "Ross and Marshall's have good curtains at low prices."
Melissa said, "Christmas Tree Store!! If you have one nearby check it out. I found curtains for $4!!"
Hilda agreed and said, "I second The Christmas Tree Shop! There's 4 in New Hampshire, go to www.christmastreeshops.com for locations. They were bought by Bed, Bath & Beyond in 2003…lots of good stuff there although I know you won't be fooled by the supposed "bargains" on their health & beauty aids!"
Kristy said, "Overstock.com has some good ones, an you can find some good deals every now and again!"
Laurie said, "Brylane Home!"
Adriane said, "Not sure where in NH you are, but Ocean State Job Lot in Peterborough has a pretty good selection, I got some really nice Martha Stewart ones last year for about $4 a window."
Sarah said, "smartbargains.com. I think I paid 20 for two panels. They were for my kitchen slider. They are awesome!! Free shipping too!"
Kristy said, "Don't know if you have an Old Time Pottery near but I always find great deals and quantites there."
Shop Sales and Clearance (plus use a coupon!):
Tiffany said, "I've gotten my whole living room & dining room clearanced at pier 1. They're beautiful."
Emily said, "I got mine at JcPenney's when they were BOGO and I had a 20% coupon."
Durinda agreed and said, "I went to Penneys when they had them 50% off and I had a coupon for 20% off my order plus a $10 coupon!! PLUS a call in number on the slip for a 15% off next purchase!"
Suellen said, "Bed Bath and Beyond always has clearance, plus you can use your coupons."
Emily said, "I'm a fan of Anna's Linens. I haven't purchased curtains but I've been happy with the other things I've bought."
Think Outside the Box:
Jasmine said, "If you open up the ends of queen sized sheets they are great for big, tall windows. i found a great brown and blue pattern at Target and get lots of compliments from people and they say they couldn't even tell they are sheets. it would have cost me more to buy the fabric."
Tara said, "Flat twin bed sheets work great…turn them upside down and use the top cuff as a rod pocket."
Jenn said, "Queen or king size flat sheets are often the size you need & a lot cheaper!!!"
Nicole said, "If you are hitting places like TJ Maxx, Ross etc look at table cloths too. If you can find a matching pair all you have to do is sew in a rod pocket. They are already hemmed and everything. I picked up my newest set( a green sateen jaquard) for $4.50 each at Ross."
Jennifer said, "christmas tree shop….. love love love that place!!!!!!!!!!! I also make my own.. I too use fat bed sheets… per yard it is way cheaper than bolt fabric from the fabric store… if you use a solid sheet buy a coordinating bolt fab as a accent for trim…"
Do you have more ideas or awesome stores you shop at for inexpensive curtains?  Please share in the comment section below!
Don't forget to join us on the CSwM Facebook page.