I don't know what's up with the state necklaces lately, but it seems like just about everyone has them on sale this week!
Here's Cents of Style's version: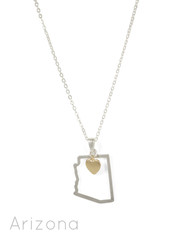 These were yesterday's Fashion Friday deal, but you can pick one up through December 8th for only $11.95 with free shipping. They normally sell for $24.95, but if you enter the code HOME at checkout, the price will drop to $11.95.
Check out the other state necklaces here.