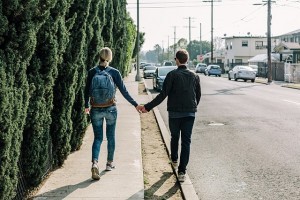 Do you find yourself cutting back on date nights with your sweetheart because of budget issues?  I get it.  My husband and I went to dinner recently and decided to forget all about our budget and before we know it, we were looking at a $65 check to pay.  That was hard to swallow.  Will we do that again?  Unlikely, but we are in no way going to slow down on our date nights!  
Hubby and I were celebrating and deliberately not worrying about the budget because we were splurging that day (that's okay to do sometimes!!).  The point is, that cost that I mentioned above is far from our typical date night and I am going to share with you how we have date nights often and for less than half the cost of our meal the other night.
Check out this list below and you will learn how to cut your date night costs in half with these tips:
Wait til happy hour.

 Many restaurants offer deals during the later hours.  For instance, Applebees has a great selection of apps and drinks that are half priced after 9:00 p.m.  I'm more than happy to head out later in the evening if it means I am saving half the price of my meal!

Rent a movie at home.

 Do you typically do dinner and a movie for your date nights?  Going to a movie theater is very, very expensive these days.  Why not go out to dinner and then bring the movie watching home with you?  You can rent a movie at Redbox for as little as free (watch for those promo codes!) or stream it online for just a couple of dollars.  Plus, that means that you can snuggle up with your honey and enjoy the movie in a much more relaxed and romantic environment.

Do a food truck tour.

 Walk hand in hand downtown enjoying the sites and grab a small bite eat from a local food truck.  You will be experiencing your city first hand while simultaneously supporting a local small business.  Plus, food trucks have some of the best foods around!
What are your favorite tricks for cutting date costs?