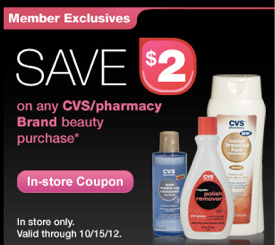 Check your inbox!  If you're a CVS Beauty Club member you most likely received the same emailed coupons I did yesterday with $7 of exclusive savings. 
$3.00/1 Selma Hayek Nuance Shampoo or Conditioner
$2.00/1 CVS Brand Beauty Purchase
$2.00/1 Essence of Beauty Body Care or Fragrance
You can use the CVS Brand Beauty purchase coupon to get FREE Nail Polish Remover!  Here's how:
CVS Brand Nourishing Nail Polish Remover – $1.87
Use $2.00/1 CVS Brand Beauty Purchase (emailed coupon)
Free after coupon
Not everyone will receive these offers. Check out how you can be part of the CVS Beauty Club!  Just a little side note, I use nail polish remover not only for my nails but to remove black scuff marks off my shoes!  😉
Be sure to check out the best CVS deals here.
Thanks For the Mommas