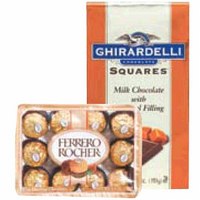 Carrie from Pocket Your Dollars emailed me this deal scenario to get some candy for cheap this week at CVS. I modified her scenario a bit to include not only Ghirardelli chocolate but also Lindt Lindor Truffles. Here's how you can get this yummy chocolate for cheap:
$6 when you buy two bags of Ghirardelli Chocolate
$6 when you buy two bags of Lind Lindor Truffles
$3 when you buy three Trident Layers Gum packs
-$2 when you use two $1/1 Ghirardelli chocolate printable coupons (IE Link) (FF Link)
-$2 when you use two $1/1 Lindt Lindor Truffles printable coupons (see note below on how to get this coupon)
-$1 when you use Trident BOGO coupon from 10/18 insert
-$1 when you use $1/2 Trident printable coupon
Pay $9 out of pocket and get $5 extra care bucks back. That would be like paying $1 per bag of Ghirardelli and Lindt's Truffles.
How to get Lindt's Lindor Truffle Coupon
To get this coupon go to the Serious Eats website. Once there look for the ad space below the turkey on the right (big square). Refresh the page until you see an ad for Lindt's Lindor truffles in that space. Roll the mouse over where it says "Rollover for coupon" and then click on where it says 'Click Here for Coupon." This coupon doesn't expire until 2/28/10.
Walgreens Shoppers: Print this coupon and save it for when Holiday Chocolate goes on clearance at Walgreens at the end of the year. I have seen bags of Lindor truffles get to 75% off! I am saving my two coupons to grab some cheap chocolate for my husband.