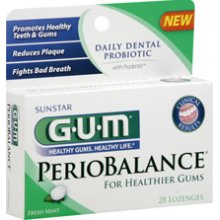 This week CVS has Periobalance Lozenges Free after extra care bucks.  I just wanted to give you a reminder to check inside the package of the box that you are buying.  You may find a manufacturer coupon inside it.
GUM PerioBalance Lozenges 28 ct $15.99, Earn 15.99 wyb 1 Limit 1
Use $5/1 Coupon inside the boxes
Pay $10.99 and get $15.99 extra care bucks back
Don't expect to find a lot of these at your store.  but if you don't find them, don't forget you can ask for a raincheck.