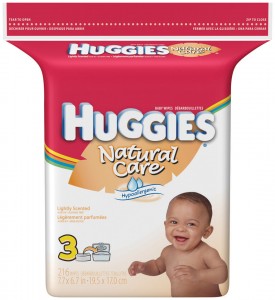 There is an awesome deal going on at CVS right now on Huggies wipes.  The tubs of Huggies wipes are on sale 2/$5.  Well, it has been confirmed that the Huggies wipes refill bags 216ct (reg. $7.99) are also included in the sale and priced at $2.50.  Wow!
On top of that, according to one of Shannon's readers, if you scan your CVS card under the scanner you will get a CVS coupon for $2 off Huggies wipes.  Use this coupon to get the refills for only 50 cents.  What a real bargain!  If you have any homemailer Huggies coupons you could walk away with free Huggies wipes.  This is a great deal guys, make sure to price check those huggies refill bags as the sale price is not tagged but it's ringing at the register that way.
Thanks Maven of Savin'!