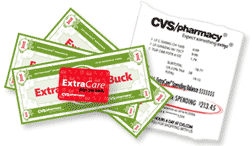 Here are some extra deals at CVS for this week of 8/15-8/21:
If you scanned your CVS card at the scanner last week, you may have gotten a coupon for $1 off two Caliber stationary products.  This week the notebooks are on sale 2/$1.  Use this coupon to buy two.  I used my coupon to buy two 24ct packs on pencils for free last week.  Thanks Amy!
Speaking of coupons from the scanner, I got this HOT tip from Kristina.  She says:  "I was at CVS tonight and scanned my card and got a coupon for $4/1 Huggies denim diapers on sale for $8.99.  I used it along with a $3/1 coupon to get them for $1.99."  If you don't have one of these homemailer coupons, use this $2/1 Huggies printable currently available.
Finally and speaking of printable coupons, the$3/2 Right Guard deodorant coupon is available to print again.  These are buy one get one free this week at CVS or 2/$3.29.  Buy two and after coupon you would pay only 29 cents for both.
What coupons are you getting at the scanner this week?