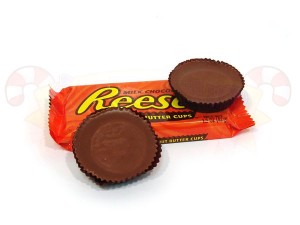 There are a couple of freebies at CVS this week that are either unadvertised or the result of new coupons available:
Reese's Peanut Butter Cups, 2/$1
Use $0.55/1 coupon from 8/23/09 SS insert
FREE after coupon
Kotex Lightdays Double Pack (20-ct. ea.), $1.49 (BOGO)
Use two $1/1 coupons from 7/19/09 and 8/23 SS insert or this $1/1 printable coupon
FREE after coupons Thanks Deal Seeking Mom!
Also, here's a deal from Abundant Food Savings on Pure Protein bars which are on sale Buy 2 get One Free – online price is $1.79 each:
$7.16 when you buy six Pure Protein Bars
Use three Buy one Get One free printable coupons or from 8/23 RP insert
Pay $1.79 plus tax out of pocker for all six!! That's like paying $0.30 each.
Laina also shares her best deal which includes using the $4/$20 coupon from the Ready Fill Booklet:
$21.48 when you buy 18 bars ( 12 x $1.79 / 6 free)
Use $4 off $20 Ready Fill Coupon
= $17.48 Subtotal before coupons
Use (9) Buy one Get one Free coupons
Pay $1.37 fo all 18 bars. It's like paying $0.08 per bar
Don't forget to check out the rest of the deals at CVS here.