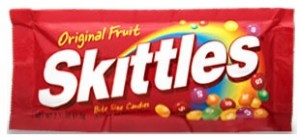 If you printed the $1/1 Skittles coupon that was available on Coupons.com last week, you an use it to get it free at CVS this week.  I told you to print it!  The Coupon Machine at CVS is printing out BOGO coupons on Skittles, Starburst, and Lifesaver candies. The coupon is only good for 14 to 17 ounce bags, so don't get the wrong size bag or the deal won't work. The 14 ounce bags are on sale this week for $3.00 each when you buy two bags. But the coupon deducts the regular price of $4.29.
Here is the deal scenario:
Buy 2 Skittles/Starburst 14 oz Bags (Sale Price $3.00 each)
Use two $1/1 Skittles Coupon (previously available)
Use CVS BOGO Coupon ($4.29 deducted)
Pay nothing but tax if applicable
Hand the manufacturer coupons first.  They may be some overage in this deal, so make sure to have something extra in your order to absorb it.  You will not be handed out cash for it.