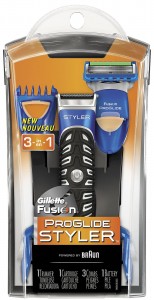 Looking for a nice addition to that Father's Day gift basket?  You may want to head over to CVS since some are reporting the Gillette Fusion ProGlide Stylers are ringing up for $9.99 and giving a $4.00 ExtraCare Reward at checkout!  No coupons required.  Just take your item to the big red coupon kiosk to verify pricing.  If you have found them at your store here is the deal this week:
Gillette ProGlide Styler – $9.99 (Reg $19.99)
Pay $9.99, get back $4.00 ECB
It's like paying just $5.99 after reward!  That is an awesome price for this styler!
Be sure to check out all best CVS deals here.
Thanks DrugStore Divas!