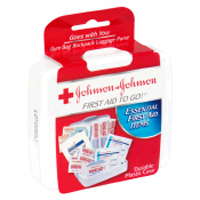 This week (7/19-7/25) at CVS there's an ECB deal going on: Band-Aid, Johnson & Johnson or Neosporin Products (psa $2.99) Spend $10 get $5 ECBs (limit 5).  Reportedly the J&J First Aid To Go Travel Kits that sell for $0.99 and can be found by the travel size section are counting towards the deal.  There's a coupon for $1/1 any J&J first aid product in the 5/17 RP inserts.   There's also a blinkie coupon for $3/2 J&J First Aid products that can be found at certain Walgreens.  If you had enough coupons and found enough of the kits in stock you could:
$10.89 when you buy 11 to go kits
-$10.89 when you use 11 $1/1 coupons (cashiers at CVS are in my experience trained to adjust the value of the coupon down)
=FREE plus get a $5 ECBs back.
I wished I had a CVS near me, I think these are great to carry in your purse, diaper bag and keep in the car for emergencies. If you don't have 11 coupons and are interested in this deal, don't forget you can order coupons from the Coupon Clippers or Ebay.
Also, I am seeing reports that about  a regional deal advertised on the CVS sales circular:  Buy any one gallon of advertised brand of milk and get $1 ECB back.  Some regions have the gallon of milk advertised on sale for $1.99, so only 99 cents after ECB.  Check your local ad to see if you were lucky and got this deal.