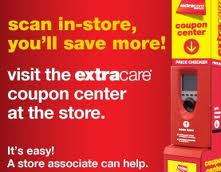 There are several really good CVS CRT or Kiosk coupons printing!  These will either print at the end of your receipt or at the Kiosk Coupon Center in the store.  Not everyone receives the same coupons and there may be more than stated here but here are what some of you have received:
Mars King Size
Tear & Share $.25 off
American Greeting cards buy 2 get 1 Free (Up to $2.99)
baby care (any) $5 off $25
Caltrate with double D $3 off
Crest Pro Health 500 ml + $1.50 off
Colgate Advanced Toothpaste $4/2
CVS brand airshield $2 off
CVS brand cough drops 150 ct + $1 off
CVS brand easy fiber $2 off
CVS brand facial cleansing & makeup remover towelettes $2 off 2
CVS brand pain reliever $1 off
Gold Emblem Chips $1 off
Power Bars Buy 2 Get 1 Free
Revlon (any) $3 off
Schick Quattro Men's or Schick Hydro Men's Razor Blade $3 off
Softsoap Pampered Hands $2 off
ThermaCare 2/3 ct $2 off
vitamins (any) $5 off $10
vitamins (any) $3 off
photo processing $2 off $10
Thease are all CVS store coupons and can be combined with manufacturer coupons.  Here are a few deals to help maximize your savings this week through 11/3:
Buy (2) Revlon Cosmetics or Tools, Get Back  $7.00 ECB (limit 6)
Use (2) $1/1 Revlon Color Cosmetic from SS 10/14 (exp 11/18)
PLUS use $3.00/1 Any Revlon Cosmetics Purchase from CVS CRT Coupon
Pay $6.58, get back $7.00 ECB
FREE + Moneymaker after coupon and rewards
Gold Emblem Potato Chips $1.00
Use $1.00/1 Gold Emblem Potato Chips CVS CRT Coupon
Free after coupon
Colgate Advanced Total or Sensitive 5.8-6 oz – $2.99, Get back $1 ECB (limit 2)
Buy (2) Colgate  Advanced
Use $0.75/1 Colgate Advanced SS 10/14 (exp 11/17)
PLUS Use $4/2 Colgate Advanced CVS Kiosk Coupon
Pay $0.48, get back (2) $1 ECB
FREE + Moneymaker after coupons and rewards
Centrum Specialist Vision – $15.99
Use $5/1 Centrum Specialist Vision
PLUS use $5 off $10 any vitamins CVS Kiosk Coupon
Pay $5.99 after coupons
That's a 66% savings when you combine coupons!
Spend $30.00 on PG Products, Receive $10.00 ECB (limit 2) (1 promo per transaction)
Buy (4) Pampers Jumbo pk $8.99 each
Use (4)$2.00/1 Pampers diapers from PG 10/28 (exp 11/30)
PLUS use $5.00/$25 Baby Purchase CVS Kiosk Coupon
Pay $22.96, get back $10.00 ECB
That works out to be just $3.24 each after coupons and rewards
 Don't forget to check out this awesome P&G Product Moneymaker deal I outlined last week.  If any of your new CRT coupons apply you can score an even better moneymaker deal. 
Thanks I Heart CVS and Krazy Coupon Lady