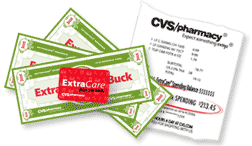 Wondering how to rock the deals at CVS this week? Well, here are my scenarios. I like to take it easy and plan on doing only a couple of
transactions. Don't be fooled though, I plan on getting a lot of stuff for less.
First Transaction
Buy seven Finish Gelpacs or Power Tabs $3
Buy 4 Maalox products $5.99
Use seven $2.25/1 Finish Quantum Dishwasher Detergent 1/2/2011 SS Insert (exp 2/21/2011)
Use four $5/1 Maalox 1/9/2011 SS Insert (exp 3/1/2011)
Pay $9.21 and get back two $10 ECBs (one for the Finish deal and one for the Maalox)
Second transaction:
Buy one pack of Scott bathroom tissue $10
Buy one pack of Scott paper towels $10
Buy one Kleenex 3 pack $3
Buy one tub of Cottonelle wipes $2
Use two $1/1 Scott Bath Tissue or Scott Towels (IE) Printable (FF)
Use $0.50/3 Kleenex Facial Tissue 1/2/2011 SS Insert (exp 2/27/2011)
Use $20 in extra care bucks from transaction above Pay $2.50 and get back one $10 in ECBs
So, in the end I end up spending $11.71 out of pocket and have $10 in extra care bucks to spend. And this is how I basically get toilet paper for very cheap: buy using the
overage from moneymaker deals (like Maalox or Finish above) to help pay for the expense. I want to thank reader Julie T. who so generously shared some of her Finish coupons with me. By the way I want to mention that if your CVS has no Finish in stock, don't forget to get a raincheck. You can also take the CVS ad and have it price matched at Target or Walmart. The price at CVS this week is less than the everyday price at both places.
What's your plan for CVS, Walgreens or Rite Aid this week?