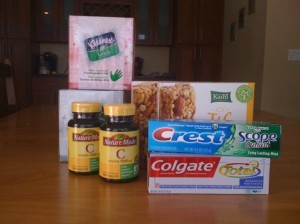 I finally had a chance to do a little shopping this week and decided to venture to both Rite Aid and CVS.  At Rite Aid I struck out on the Johnson & johnson Baby products. The store was all out of them.  I was able to get a raincheck for them so hopefully I will be able to take advantage of this deal later.  I did get the boxes of Kleenex facial tissues for 24 cents each after sale and $0.75/1 coupons available to print at the beginning of the month.
Some of you know that I have just recently started shopping at Rite Aid, so how do rainchecks work there?  The cashier wrote my raincheck for 8 bottles.  Will I be able to redeem them all at once or one at a time.  I have the coupons to get them FREE too.  Any help from my readers who are expert Rite Aid Shoppers is welcomed.
At CVS, I did much better.  My local store "turns on" Sunday sales on Saturday so I was able to do the Kashi and Crest Deals today without having to wait until tomorrow.  If you are unsure if your store turns the next week's sales on Saturday, just ask your cashier.  I love stores that do that because I can shop once and double dip two weeks of sales.
This is what I did at CVS:
Two Kashi TLC Bars 2/$5
One Colgate Total tothpaste $2.77
One Crest toothpaste $3.29
Two Nature Name bottles of Vitamin C on sale buy one get one free 2/$12.29
Used the following coupons:
One $1/1 Colgate coupon
Two $2/1 Kashi coupons
Two $5/1 Nature Made Vitamins coupons (available a while back)
One $3/1 Nature Made CVS coupon that printed at the scanner
Paid $6.35 out of pocket and got back $8.29 in extra care bucks
Nothing like getting paid to shop!  This sort of makes up for my local Target not having the $5 Gift Card deal on frozen Food.  Well, not really.  I would have loved to stock up on frozen veggies.
How did you do this week?