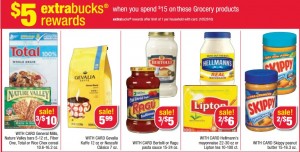 If you're a CVS shopper there are several great offers this week! Even if you don't have coupons you can still work out a great deal when combining products and ECB's.  This week Skippy peanut butter is on sale and while there are no current coupons available, you can still get a fantastic deal with the following scenarios:
Spend $15 on Select Grocery Products Get Back $5 (limit 1)
Buy (6) Skippy Peanut Butter – 2/$5
Pay $15, get back $5
That works out to be $10 or just $1.67 per jar after ECB
Buy (4) Skippy Peanut Butter – 2/$5
Buy (3) Ragu Pasta Sauce 3/$5
Use (1) $1.00/2 Ragu Pasta Sauce from SS 1/6 (exp 2/2/13) – may be regional
Use (1) $0.20/1 Ragu Pasta Sauce, jar from 01/27/2013 RP Insert (exp 02/24/2013)
Pay $13.80, get back $5.00 ECB
Thw works out to be $1.67 each for Skippy and $0.71 each for Ragu after coupons and ECB
Check out the other CVS deals here.
Thanks For The Mommas