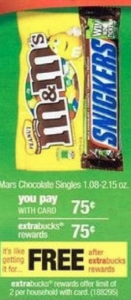 Yum yum!  I must admit I am not a chocolate person but I can't say no to Milky Way bars!  And as part of their Thanksgiving sale (runs 11/22-11/24) CVS will be runnig the following Extra Care Bucks deal:  Buy a Mars chocolate singles $0.75 and get back a $0.75 Extra Care Bucks.  The limit on this deal is two so you could do the following:
Buy three Milky Way chocolate singles $0.75 each
Use one B2G1 MILKY WAY Brand Bars
Pay $1.50 and get back $1.50 Extra Care Bucks
Pretty sweet huh?  Get your coupons ready now just in case they go away before the sale starts.  Check out other CVS deals here.
Thanks I Heart CVS!