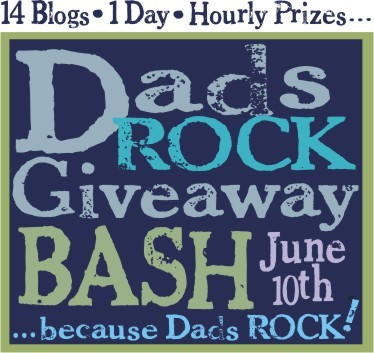 I have something fun to share with you!  Due to the success of the Mother's Day Giveaways I hosted, I decided to partner with other bloggers to plan an awesome giveaway bash in honor of Father's Day.
Next Thursday June 10th, 13 other bloggers and myself will be hosting giveaways all day long for cool stuff to give to dad.  Whether you are a dad, or shopping for one, there is sure to be something in the giveaway list that will get your attention.  Some of the items I will be giving away include an awesome Flip Slide Camera ($280 value!), Rocawear fragrance, Hanes products gift basket, Otterbox mobile cases, and so much more!  I am counting about 12 giveaways so far on this blog alone.  Add to that the giveaways on the other 13 blogs and you have TONS of chances to win.
Something you may want to do in prep for this bash is become a fan of the Dad's Rock Event on Facebook and follow us on Twitter.  We have been announcing the sponsors and giveaway prizes, so make sure to follow to get the scoop.  Here is the list of the other participating blogs:
I hope you will join me on Thursday and have fun on this party I have planned.