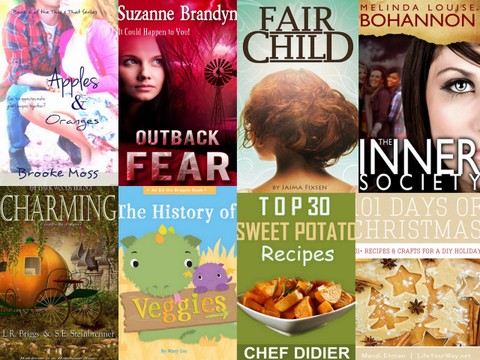 Every day Amazon offers a selection of Romance, Science Fiction, Fantasy and Teen titles at a discounted price.
Kindle Daily Deals – Each day they unveil new Kindle book deals for adults and young readers with prices usually ranging $1.99-$2.99. These are only discounted for today.

Kindle Monthly Deals – Each month they unveil a new collection of 100 Kindle books for $3.99 or less.
Thanks To Rose Knows Coupons here are some FREE kindle titles available for download at the moment:
Romance
The Texas Millionaire's Runaway Wife
Drive Me Crazy (Holland Springs ~ Book 1)
Contemporary
The Smartest Girl in the Room (The New Pioneers)
Apples & Oranges (The This & That Series)
Historical
Hamfist Over Hanoi: Wolfpack on the Prowl (Hamfist Trilogy Part 3)
Strictly G.I.: The WWII Letters of Cpl. Wanda M. Renn
Leonardo the Florentine (The Life and Travels of Da Vinci)
Christian, Religious & Inspirational
God, Me, and Sweet Iced Tea: Experiencing God in the Midst of Everyday Moments (Christian Spiritual Growth)
The Party Gift (Christina's Purpose)
FAITH BEYOND CHURCH WALLS: Finding Freedom in Christ
Young Adult
The Dryer Chronicles: Reverse Tumble
The Inner Society (The Inner Society Trilogy)
Roy and Hastings in "Girl Trouble"
Mystery, Suspense & Action
Dead Center (The Rookie Club, Book 1)
Separate Lives (Tyson Palmer Thriller Series)
THE SALSA CONNECTION–AN INTERNATIONAL ROMANTIC THRILLER (THE RUSSIAN DANCER)
The Devil's Grin (Kronberg Crimes)
Paranormal, Fantasy & Science Fiction
Charming: A Cinderella Prequel (The Dark Woods Series)
Déjà Vu (The Saskia Brandt Series Book One)
Home, DIY, & Crafts
How to Sell Crafts Online: The Little Handbook of Craft Selling for Beginners (Selling Crafts)
Apartment Gardening DIY – Only the Basics
Gift Basket Making in 10 Simple Steps
Children's
The History of Veggies (An Ed the Dragon Book)
The Happy Gift (Children's Books about Life Lessons #1, Giving) (The Sally Series)
Let's Talk About Feeling Disappointed (Let's Talk About)
Biographies & Memoirs
How I Got Into Aerospace & What I Did There
Cookbooks
Delicious Sweet Potato – Easy Sweet Potato Recipes for Baby and Toddler
American Traditions: German Dinners for the Holidays

Remember that you do not need a Kindle e-reader to be able to read this book. You can read it on your PC, iPhone, iPad
, Blackberry and Android. Just download for free the appropriate application to be able to do that. Amazon changes prices without notice, so make sure to check that the kindle price it is still $0.00 before you start downloading this book.