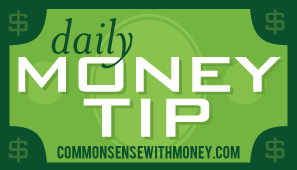 Today's daily money tip is to show you how to earn Amazon Gift Cards FAST by buying your daily deals through Swagbucks. By now you already now that Swagbucks is a search and win website that rewards for your online searches. Accumulate these Swagbucks and redeem them for rewards. The most popular rewards are Amazon gift cards: 450 Swagbucks will get you one $5 Amazon Gift Card.
I recently learned that you can earn up to 280 Swagbucks at once when you buy your Groupon, Living Social or Tippr deals through Swagbucks. This is like "getting paid" almost $2.50 in Amazon Gift Cards every time you buy a deal through Swagbucks. OK, this is what you need to do to take advantage of this awesome current offer.  Every time there is a Groupon, Living Social or Tippr deal you want to buy follow these steps to earn serious Swagbucks in the process:
Once logged in, at the top of the page, click on "Earn" and from the drop down menu select "Daily Deals."  Your screen should look similar to this: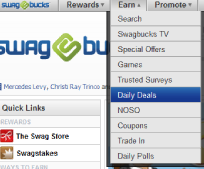 It should take you to the Daily Deals offers Swagbucks has available.  Even if the deal you want to buy is not listed there, because say you are buying a Groupon that is listed under another city, click on the link available and from there visit the city where the deal you want is listed.  You will still get the amount of Swagbucks credited to your account.
I wanted to confirm this myself before sharing it with you.  Last night I bought a Groupon listed under the city of Allentown, PA although the Daily Deals page only listed Boston deals for me.  I still got 280 Swagbucks added to my account in a manner of minutes.
Have a topic you would like address in the Daily Money Tip? Send me an email with your burning question. Read previous Money Tips here.

Thank you for reading the Daily Money Tip: Money Management for the Time Deprived.