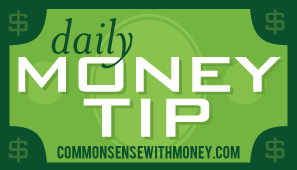 Looking for ways to make some extra cash? Maybe you are looking for extra cash to pay down debt, or to add to your emergency fund. If you are looking for quick ways to make an extra bucks start by looking around you.
Selling the stuff you no longer use or need is a great way to make some extra cash from the comfort of your own home. Here are some of the things you can sell: outgrown clothes, books, music, CD's, DVDs, even gently used toys, home items. You can sell pretty much anything as long as there is a market for it, so don't disregard something without looking into whether it is saleable or not.
You can find a buyer for this stuff by hosting your own garage sale, selling on Ebay or Craigslist. Other outlets include consignment shops and flea markets.
Have a topic you would like address in the Daily Money Tip? Send me an email with your burning question. Read previous Money Tips here.

Thank you for reading the Daily Money Tip: Money Management for the Time Deprived.