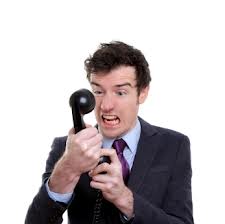 This is the time of year when consumers need to deal with customer service, due to the sheer number of holiday returns and exchanges and the increased risk of unauthorized credit card transactions. However, not all customer service experiences are positive or helpful.
Here are some tips to help you deal with customer service and get what you want…
Have Your Details Ready
Make sure you have all of the information and documentation about your order ready before you get ready to deal with customer service. This includes receipts, purchase dates, account numbers, confirmation numbers, and statements from your credit card or bank. Having all of this information in front of you makes the process of dealing with customer service representatives much faster and easier for everyone involved.
Deal With Customer Service at the Right Time
Studies have shown that, in most cases, it's better to deal with customer service earlier in the day rather than later. On average, consumers who contact customer service as soon as they're available, have a much faster response time and much more pleasant overall experience. So, if customer service for a particular company is available starting at 8:00 AM, then this is the best time to contact them. There are a couple of reasons for this. First of all, there is most likely more of a backlog of customers needing assistance as the day goes on. Also, customer service employees tend to get tired and more stressed out as the day goes on.
Use the Right Contact Method
Different issues may require you to deal with customer service in different ways. For instance, you may need to pick up the phone and call your credit card company if you have a question or concern about your bill. On the other hand, you should probably go directly to a store when you want to return or exchange an item.
Be Nice and Stay Calm
It can be tempting to lose your cool and start getting snippy when you deal with customer service. However, do whatever you can to avoid this! The old saying "you'll catch more flies with honey than vinegar" definitely applies here. Put yourself in their position – would you want to go out of your way to help someone who was getting irate with you? Probably not, and neither will the customer service representatives that have to deal with you if you lose your cool.
Get Buddy Buddy
Being nice and staying calm is one of the best tips one can get for when they need to deal with customer service. However, you may want to consider taking it a step further. Get the representative's name at the beginning of your conversation and casually use it throughout. Make small talk about the weather and make lighthearted jokes. Say "we" instead of "I". In a sense, become your customer service representative's friend. This will help the person relax and be much more willing to help you get what you want. It's just human nature to be willing to please a friend (you) than an irritated and angry person.
Stay Focused
Some sneaky customer service representatives will try to casually coerce you into either purchasing additional products or services, or otherwise steer you in another direction. If this happens, stay focused on the problem you need resolved. Make it very clear to pushy customer service representatives that you want to get your matter resolved as soon as possible.
Ask Them What They Would Do
Customer service representatives know all of the tricks and loopholes of their companies. If you're really stuck, it couldn't help asking them what they would do if they were in your situation. They may know how to help you get out of a jam, but are unable to do it for you themselves.
Be a Little Flexible
You don't have wishy washy, but there may be some situations in which you're unable to get exactly what you want when you deal with customer service representatives, no matter how hard you try. In these cases, it pays to be a little flexible. Ask if there's anything else they could offer you to compensate you for your problem. You might just be a little surprised and pleased to find out what they have to offer.