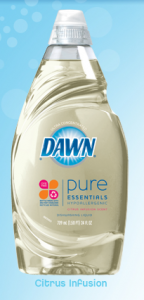 I hope you haven't taken your trip to Target to get cheap ice cream and diapers yet, because I have one more deal for you.  I also have a couple other deals I want to bring to your attention:
Target had the large bottles (I think 24oz) of Dawn Pure Essentials on sale this week for $2.09.  Use the $1.50/1 coupon available in the 6/7 Procter & Gamble inserts to pay only $0.59 each.  That's very little for a lot of dish washing soap.
There's a new $5 off $15 Meat Purchase coupon you can use at Stop&Shop chain of grocery store.  The coupon is good through July 2nd, wow!  If your store takes competitor's coupons take this coupon with you then.  Thanks Bargain Shopper Lady!
Happy Savings!