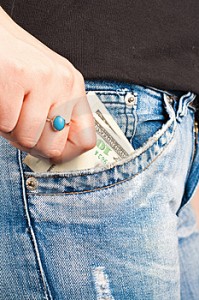 Four months ago I shared with you my family's plan to pay off in six months our new minivan.  As I spelled it out back then, I talked my husband into sending every bit of money that we could get from out budget to our newly acquired car loan and that if we did so, we should be able to pay it in 6 months.  At the time he was very skeptical.  However, as time started going on and we started making payments he started believing in this.
I am ECSTATIC to share with you that we have done it!!  Yes, the car is ours not the bank's!  I am not going to lie we had a lot of setbacks in these past four months:
A section of our siding was blown off: Final Cost $600
Our water heater died.  Thankfully my husband was able to install the new one himself saving us money in the process: Final Cost $650
Our dogs went for their yearly check up and one of them needed an added procedure: Final Cost $550
A section of our fence needed to be replaced, hubby did the work himself of course: Final Cost $320
If we had not been prepared for those expenses, all of them would have set us back an additional $2,120.  But thankfully an emergency fund and careful planning allowed us the ability to weather these extra expenses.
As I mentioned in my initial post I am sharing this with you not because I want to gloat or show off.  I do this because I want you to see that it can be done.  YOU CAN DO IT TOO!  Maybe you have come to this blog because you need to find ways to stretch your dollars.  What I hope you will walk away with is a new skill that will allow you and your family to create room in your budget for the things that matter to you.  Sure, at times being frugal and using coupons seems time consuming, frustrating and laborious, but guess what? every new skill has a learning curve you need to go through.  Don't give up and allow yourself some time to learn the ropes and start using them for the benefit of your family.
I am celebrating by giving back to you.  I want you to know that I am thankful for your readership. I hope every time you have read my entries you have been able to tell that I really love what I do. I am thankful I have been given the opportunity to help others live better by spending their money more wisely. Every time I write a blog entry I hope that at least one of you has saved money by taking advantage of that deal.
I am giving away TWO $25 gift cards.  The winners will get to choose what store s/he would like to use that gift card from these choices: Walmart, Kmart, Target or Walgreens.  To enter this giveaway all you need to do is tell me about you and provide feedback on this blog.   Please use the following form to leave your entry.  One entry per person please. If you are reading this blog entry in your email newsletter or blog reader and can't see the form please click through to this website to enter.
This giveaway ends Tuesday June 23rd at 9PM CST.  U.S. residents 18 years and older only please.  I will pick two winners and contact them.  If after 48 hrs they don't contact me back I will select another winner. Good luck!