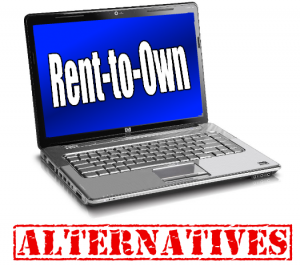 I'll admit that I've been around the rent-to-own block or twice. In fact, I have a rent-to-own washer and dryer that I paid off years ago. At the time, it was a decent option, but now that I'm not so young and dumb?
Nuh-uh! No thank you!
Although the "low" weekly or monthly payments way seem affordable at first glance, you might want to take another look. I'll use one of the deals in a national rent-to own chain's ad this week as an example. Customers can make a low weekly payment of just $16.99 to eventually own a plush rocker recliner. The payment term is one year, or 52 weeks. So, you'll eventually pay $883.48 for a rocker recliner that retails for…$294.13. And that doesn't include any taxes or other fees.
Crazy, no?
For some people, though, rent-to-own contracts may seem like the only way to get the items they want or need. I'm here to tell you that's not the case. There are alternatives to rent-to-own joints!
1. Start a Layaway Plan
One of my favorite alternatives to rent-to-own joints is a layaway plan. A layaway plan lets you make payments on big purchases, including appliances and furniture. While you won't get your items right away like you would if you entered a rent-to-own contract, you'll end up paying much less in the long run. Most stores only charge a few dollars for a layaway fee, so you'll really only pay a few dollars more than retail for your items. A few stores that offer layaway plans include Kmart, Sears, and Best Buy. Some Big Lots stores also have something called Price Hold, which is basically a layaway plan.
2. Ask About Store Financing
If you have decent credit, you may also be able to finance large purchases through some stores. This is one of the best alternatives to rent-to-own agreements. You can still get your items right away, and you can make payments. Many stores that offer financing also offer interest-free financing for six to twelve months. Pay for your items in full before this time and pay nothing in interest.
3. Buy Used and Make Payments to Yourself
If you need a big ticket item right away but can't afford it, another one of the best alternatives to rent-to-own is buying used items. Used electronics, appliances, and furniture are much less expensive than brand new items. Check local classified ads and websites like eBay and Amazon for used items. You can also start making weekly or monthly payments to yourself for the same amount a rent-to-own agreement would cost. When you have enough money saved, you can buy brand new items, without the outrageous cost of rent-to-own.
More Frugal Living Resources: