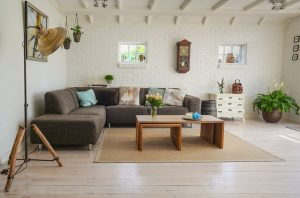 Spring has arrived my friends! For me, the change of season often comes with doing some redecorating in my home. It's like a fresh start 4 times per year! Besides, it's nice to flow with the seasons with your decor. During spring and summer for example, I often decorate with brighter colors and switch out my drapes to something lighter in weight. I'm not trying to keep the heat in after all.
Anyway…if you are wanting to redecorate your home, but you are worried about the money that is required, not to worry! You can decorate your home on the cheap with these tips:
Reuse. I always rotate my decor and store it when not in use. Even if I hang up an item that I had up last year, it's still different than the decor I have been looking at for the last several months, so I still enjoy it. Buying brand new each season isn't required.

Shop Amazon. Amazon is great isn't it? I have always shopped Amazon for specific items, but two of my favorite deals on Amazon have been for decor. I bought new sheets to brighten my room and new sheer panels to add as accents for my window coverings. Both of these purchases were super cheap ($12 for a set of Queen Sheets and $6 for a pair of sheer window panels).

Thrift shopping and yard sales. One man's trash is not always another person's trash. Check out your local thrift shop and see what kind of wonderful finds you can spot. Last year I bought a beautiful oblong mirror that looks fabulous in my living room and it cost me just $7! This would have easily cost me $50+ retail.

Clearance racks. Check clearance racks for awesome deals on home decor items, curtains, etc. Another thing to scout clearance racks for is pre-mixed paint. You can find some awesome deals on this paint and then create an accent wall which is a super quick way to completely change the look of a room.