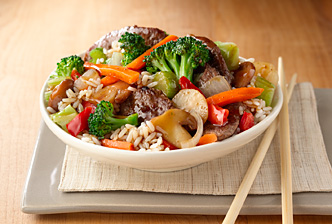 Looking for something to make for dinner tonight? Why not have Chinese?
Here's your shopping list:
For the homemade fortune cookies, you should have most of the ingredients already. This recipe has been adapted from Fortune Cookies I on AllRecipes.com.
Ingredients
1 egg white
1/8 teaspoon vanilla extract
1 pinch salt
1/4 cup unbleached all-purpose flour
2 tablespoons white sugar
2 tablespoons butter
Directions
Print several fortunes on little slips of paper so they're ready to go when you need them. They should be about 4″ x 1/2″ in size.
Preheat oven to 400 degrees F, and generously grease two cookie sheets.
Mix the egg white and vanilla until foamy but not stiff. Sift the flour, salt, and sugar and blend into the egg white mixture. Blend in butter. The batter should have the consistency of thin pancake batter. If it's too thick, thin it out with a little water.
Pour a few teaspoons of batter at least 4 inches apart on one of the prepared cookie sheets. Spread the batter thin with your fingers so each circle is about 3 inches in diameter. Only make a few at a time, so you'll have enough time to fold them when they come out of the oven.
Bake for 5 minutes or until cookie has turned a golden color 1/2 inch wide around the outer edge of the circle. The center will remain pale.
Remove from oven and quickly move cookie with a wide spatula and place upside down on a wooden board. Quickly place the fortune on the cookie, close to the middle and fold the cookie in half. Place the folded edge across the rim of a measuring cup and pull the pointed edges down, one on the inside of the cup and one on the outside. Place folded cookies into the cups of a muffin tin or egg carton to hold their shape until firm.
Return the cookies to the oven for a few minutes before serving, if they become soft.