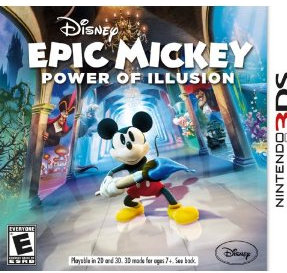 Wow! Here's a nice discount for you Disney fans!  Amazon is offering Epic Mickey: Power of Illusion Nintendo 3DS just $19.99 with one day free shipping!  Just select one-day shipping and the $3.99 credit will automatically apply at checkout!
Players will experience Disney's forgotten characters and attractions in all-new levels and further explore levels from the original Disney Epic Mickey game, but now changed, impacted by world-changing events that have shaken Wasteland apart.
Amazon pricing can change without warning.