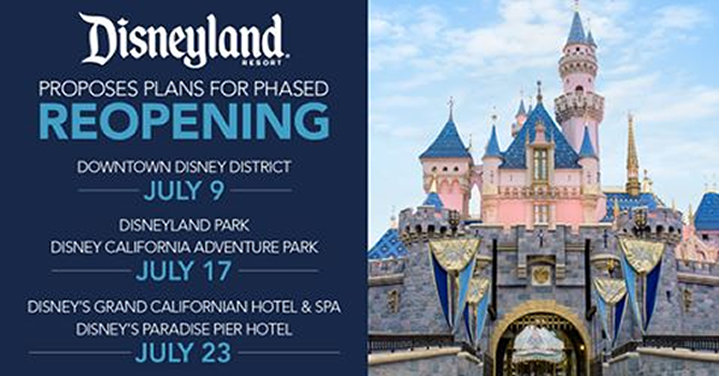 Have you heard the news? Disneyland has announced their plan for reopening. It is pending approval, but will likely happen. We'll let you know as soon as we know more, but in the meantime, Get Away Today has some big takeaways.
Downtown Disney is proposed to open on July 9 with Disneyland and Disney California Adventure Park reopening on July 17, 2020. Disney's Paradise Pier Hotel and Disney's Grand Californian Hotel & Spa hope to reopen on July 23, 2020.
Disneyland also announced that they will temporarily stop selling any new tickets effective immediately. However, Get Away Today is able to sell the tickets they already have for a VERY limited time. If you want to go to Disneyland this year, you might want to hurry and buy these tickets through Get Away Today now. Don't wait too long and miss an opportunity to buy tickets and go to Disneyland this year.
Get Away Today has learned that a reservation system will be in place, but they don't know what that entails yet. They do know that tickets will be required to secure a reservation. They are sending Disney all of their guests' current travel dates and will be in close contact with anyone who purchases tickets to keep them up-to-date on any new systems.