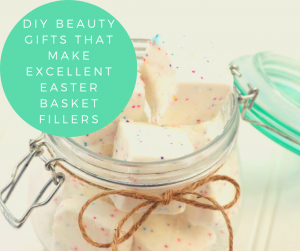 As I have gotten older I have discovered that I really enjoy handmade gifts far more than mass produced stuff. Maybe that's because I'm tired of all of the waste, or maybe it's because I genuinely enjoy knowing that someone took the time to make something for me. It's very sweet! 
I know that while my boys are too young to really care about stuff like this right now, my teen daughter is very similar to me and I know that she loves handmade gifts. She also loves spa and beauty gifts. That's why I am looking for DIY Beauty gifts that make excellent Easter Basket Fillers. 
DIY Beauty Gifts That Make Excellent Easter Basket Fillers
These bath bombs are beautiful and the colors just scream Easter, don't you think? Who doesn't love having a lovely bath and relaxing with a bath bomb tossed in? I do! 
If your teen loves beauty products and coffee, then they are going to love opening up their Easter Basket to find this DIY Coffee Scrub. It smells absolutely amazing! 
Be sure to keep some of this for yourself too though, because in addition to smelling great, it leaves your skin feeling rejuvenated and feeling great! 
This Unicorn Whipped Body Butter will make a great addition to any DIY Beauty Themed Easter Basket, plus, it makes your skin feel great. It's a gift all in itself! 
If you have never made your own soap, this is a great recipe to start with. Plus, anyone who loves beauty products will definitely like this! The beautiful Easter colors work pretty well too!
Do you have any DIY beauty items that you have created and given as a gift before? What were they? What would you add to this list?