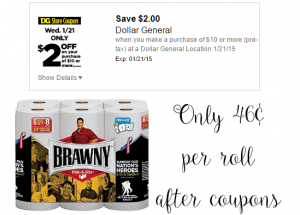 There is a Dollar General digital coupon available for $2 off a $10 purchase, valid 1/21/15 ONLY. This discount is taken before tax and calculated after all other Dollar General discounts, so you should be able to get this deal on Brawny paper towels:
Buy (2) Brawny paper towels, 6 pack @ $4.75 ($9.50)
Buy filler item(s) @ $.50 (I like the Lindor truffles by the register, and they're only $.33 each.)
– Use $2 off a $10 purchase DG Digital coupon (Type in the phone number you used to sign u for DG Digital Coupons at the register)
– Use (2) $1.00/1 Brawny Paper Towels, 6 Roll+
Final Cost: $6 for everything! 
It's like getting each pack of paper towels for $2.75, or $.46 per roll!
Do you know how much you could save if you stopped using paper towels altogether, though?!
Going shopping? Check out all of the recent coupon deals we've found!
Get grocery coupon matchups right at your fingertips with Favado!
Sign up for FREE!

Resources You Might Like:
Coupons.com