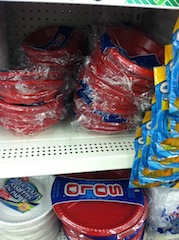 Isn't it awesome that the Dollar Tree now accepts coupons?  It has made for some sweet deals.  Here are a couple more of great deals that you can get at the Dollar Tree now:
Buy 2 Solo Plates or Cups $1 each
Use $1.00 off Two (2) Solo Products
Pay $1 for two packages
Dulce De Leche Cheerios, $1 at Dollar Tree
Use $1.00 off TWO BOXES of Cheerios cereals
Pay $1 for two packages
Don't forget to print your own copy of the coupon policy for the Dollar tree Store here.
Thanks Dollar Store Deals and Passion for Savings!