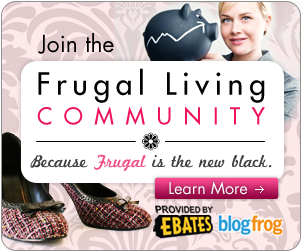 I just wanted to make sure you stop by the new Frugal Community Sponsored by Blogfrog and Ebates.  Getting Started is very easy and you do not even have to leave my blog because the community is hosted right here. You can use your Facebook login to connect to the community. if you don't have a Facebook account or don't want to use it, you car create your own profile with an email address. Plus guess what? As part of the launch there are lots of prizes to reward you for joining us and participating on the community.
So, come along and join us! We have some hot discussions going on:
Un-frugal spouse…what do I do?
Where is the best place to get shoes for the teens and kiddos?
What is Your Biggest Frustration With Couponing?
To find the community everyday, just click on "Community" at the very top right of this blog's homepage or the button on the right hand side that looks like this: