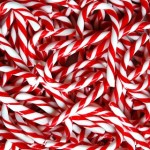 Christmas is long gone. Too bad you can't say the same thing about all of those leftover candy canes!
I always go a little hog wild on candy canes every year for the holidays. And, since I don't let the kids scarf down ten a day, I always end up with leftover candy canes for months afterward.
Instead of throwing them out, though, I always try to find new and creative uses for leftover candy canes. Here are some of y favorites.
1. Tea Stirrers
One of the most common uses for leftover candy canes around my house is tea stirrers. As the candy canes melt, they give the tea a subtle peppermint flavor. You can also use leftover candy canes to stir your coffee, but I don't care for that modge podge of flavors.
2. Peppermint Hot Chocolate
Add crushed candy canes to your hot chocolate for an interesting twist. Finely crush candy canes by placing them in a plastic bag and rolling over them with a rolling pin or smashing them with a meat mallet. Use leftover candy canes whole as a garnish.
3. Top Cupcakes
Another way to use leftover candy canes is as a cupcake topping. Crush them up and sprinkle them on just frosted cupcakes or cake.
4. Peppermint Ice Cream
Another one of my favorite uses for leftover candy canes is making peppermint ice cream. Just crush up several candy canes and fold them into softened vanilla or chocolate ice cream. For an added treat, you can also sandwich the ice cream between two cookies for a homemade ice cream sandwich.
5. Peppermint Cocktails
Mix up a sweet cocktail with some Irish cream, chocolate milk, and a candy cane garnish. you can also make a candy cane martini by pouring chilled whipped cream vodka into a glass with crushed candy canes garnishing the rim. Don't forget to add a whole candy cane as a garnish!
6. Valentine's Hearts
It's getting close to Valentine's Day, so you can always use leftover candy canes to make some Valentin'es Day hearts? Lay them on a piece of waxed paper in the form of a heart, and pour melted chocolate between them. Allow the chocolate to harden before removing the new candy from the wax paper.
7. Air Freshener
This is one of the weirder uses for candy canes that I've found, but it works. If you have a wax warmer, place broken candy canes on top of it as an impromptu air freshener. The heat will bring out the peppermint in the candy canes, scenting your whole home.
8. Sugar Scrub
I used leftover candy canes one year to make a sugar scrub and was surprised at how well it worked. Crush up a few candy canes and add them to about a cup of white sugar. Moisten the crushed candy canes and sugar with a base oil, like almond oil or grape seed oil. You can also add a few drops of peppermint oil. Use the mixture to exfoliate and slough off dry skin. Make sure you test a bit of the mixture on your skin first, though, since the peppermint can cause irritation in some people.
What are your favorite uses for leftover candy canes?